Regular price
$109.00 USD
Regular price
$179.00 USD
Sale price
$109.00 USD
Unit price
per
Sale
Sold out
30-Day Money-back Guarantee 
The Ultimate Utility Wedge for Conquering Every Short Game Shot!
Obviously, the above story is pure fiction.
But it could easily become reality – you just need the P3 Pharaoh Wedge (and a golf pal named Charlie).

Hi, I'm Matt Stephens. You may be familiar with my previous inventions, including the  Pyramid Putter  and the F2 Wedge .

I'm awfully proud of those clubs, which have saved thousands of golfers literally millions of strokes.

I'm confident the P3 Pharaoh Scoring Wedge will have the same kind of impact.

How can I be sure?

Because I know what gives recreational golfers, like you, so much trouble around the greens.

In a nutshell:

You overuse your hands and wrists...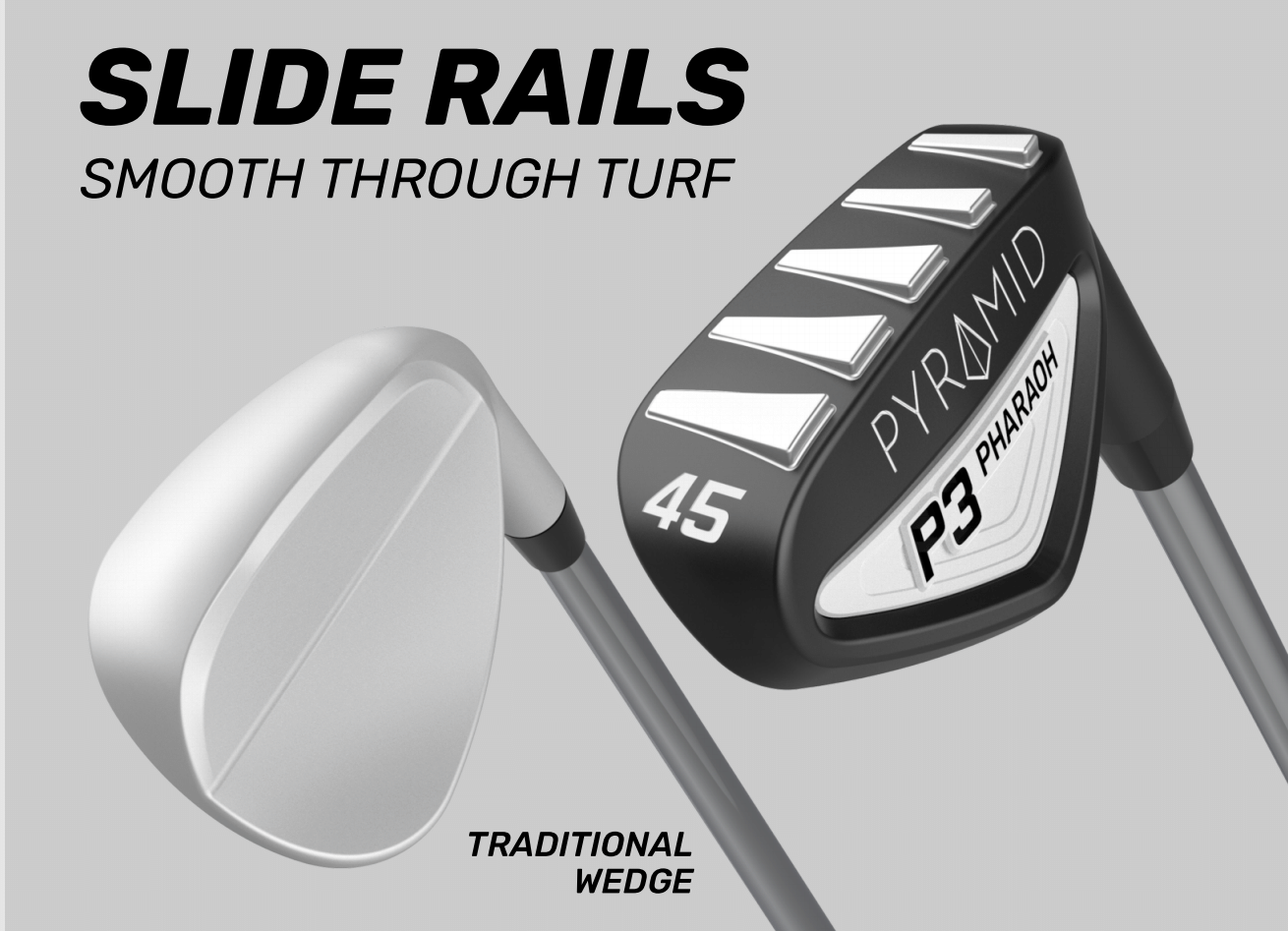 ... Which causes inconsistent contact   (fat and thin shots plus heel and toe misses), and…
... Makes it darn near impossible to control your distance and trajectory.
Sound about right?
I thought so.
I also know why traditional clubs only compound your shortcomings .
And I know that we solved these issues with the P3 Pharaoh Wedge.
In a moment, I'll introduce you to my co-designer -- he's one of the best in the business.
First, let's look at what makes the P3 Wedge so deadly on those vexing greenside shots – and how it will make your short game the envy of your foursome.
I'll start with its most eye-catching aspect: 
A pyramid-shaped clubface that 
boosts backspin and provides maximum forgiveness 

 where you need it most.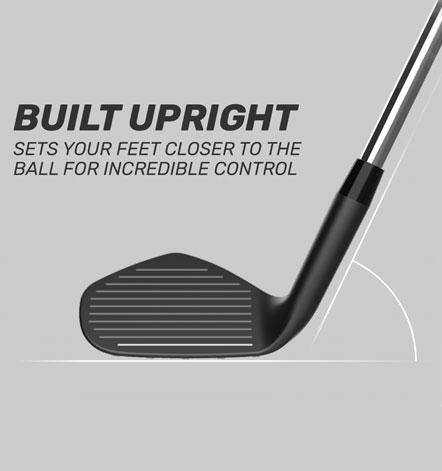 The Pyramid Wedge's low-profile face is taller in the middle than on the toe, so you'll catch the ball higher on the club  than you do a normal iron or wedge.

That means extra height and spin from rough or sand.  (Yep, you can use the P3 in bunkers, as I'll explain shortly). 

The shape also concentrates more mass near the vertical center of the club .Since your miss-hits tend to be smaller on shorter swings, that's exactly where you want it.
Next, let's examine an even more critical feature:

A chunk-proof, self-squaring sole that 
prevents fat shots 

 while delivering deadly accuracy.

You've probably seen wide-soled wedges, maybe even played one yourself.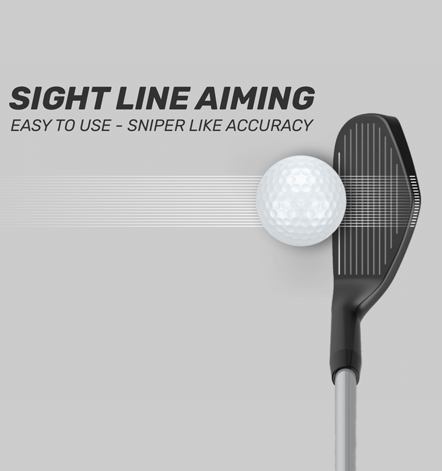 It's a great concept that works very well. The wider the base of the club, the more easily it slides across the turf and resists digging .
A regular iron or wedge has a much thinner sole – appropriate for full shots, but a real drawback around the greens.
We gave the P3 Wedge ample sole width, but we didn't stop there.
To help the clubhead cruise through tall grass unimpeded  , we added a series of slightly raised rails from heel to toe.
The rails serve a purpose on tighter turf, too, by squaring the clubface  when it meets the turf.
You won't believe how straight your shots fly off the Pharaoh Wedge.
Those are the primary features. But there's plenty more that make the P3 such a killer all-around club.
Including:
An upright lie and shorter shaft that put you more on top of the ball  (for better control over the clubhead and uncanny accuracy)

"Goldilocks" loft of 45° – not too high, not too low  (but just right for the variety of shots you face in every round)

A head that's about 20% heavier than standard, which limits your hand and wrist action while engaging your arms and shoulders  (which are much more reliable and consistent)

A super-low center of gravity to increase backspin  (so your shots will check up with greater precision)

Grooves across the entire clubface  (so if you do miss-hit it badly, you'll still get excellent spin)

A unique alignment guide to help you set up dead-square  (for unmatched accuracy no matter your distance from the hole)

Any one of these features would deliver improvement over the club or clubs you're currently using.
But put them all together, in a single club, and you've got unmatched stroke-saving power.
That's the P3 Pharaoh Wedge.
It looks different, doesn't it? 
Trust me – it is different.
For that I have to credit my co-designer, Jeff Halstead.
Jeff is a recognized star in the equipment industry; he earned Golf Digest Hot List medals  during his days at TaylorMade and Adams Golf.
Of course, those are huge companies that put major constraints on product design. Traditional styling is the name of the game.
(Seriously, when's the last time you saw something like the P3 from a major manufacturer?)
That's a big reason Jeff was thrilled to join forces with me in building the Pharaoh Wedge.
Unbound by convention , Jeff and I tapped deep into our creative wells.
We allowed ourselves to go a little wild – no shape was too strange, no angle too oddball – when it came to the P3's appearance.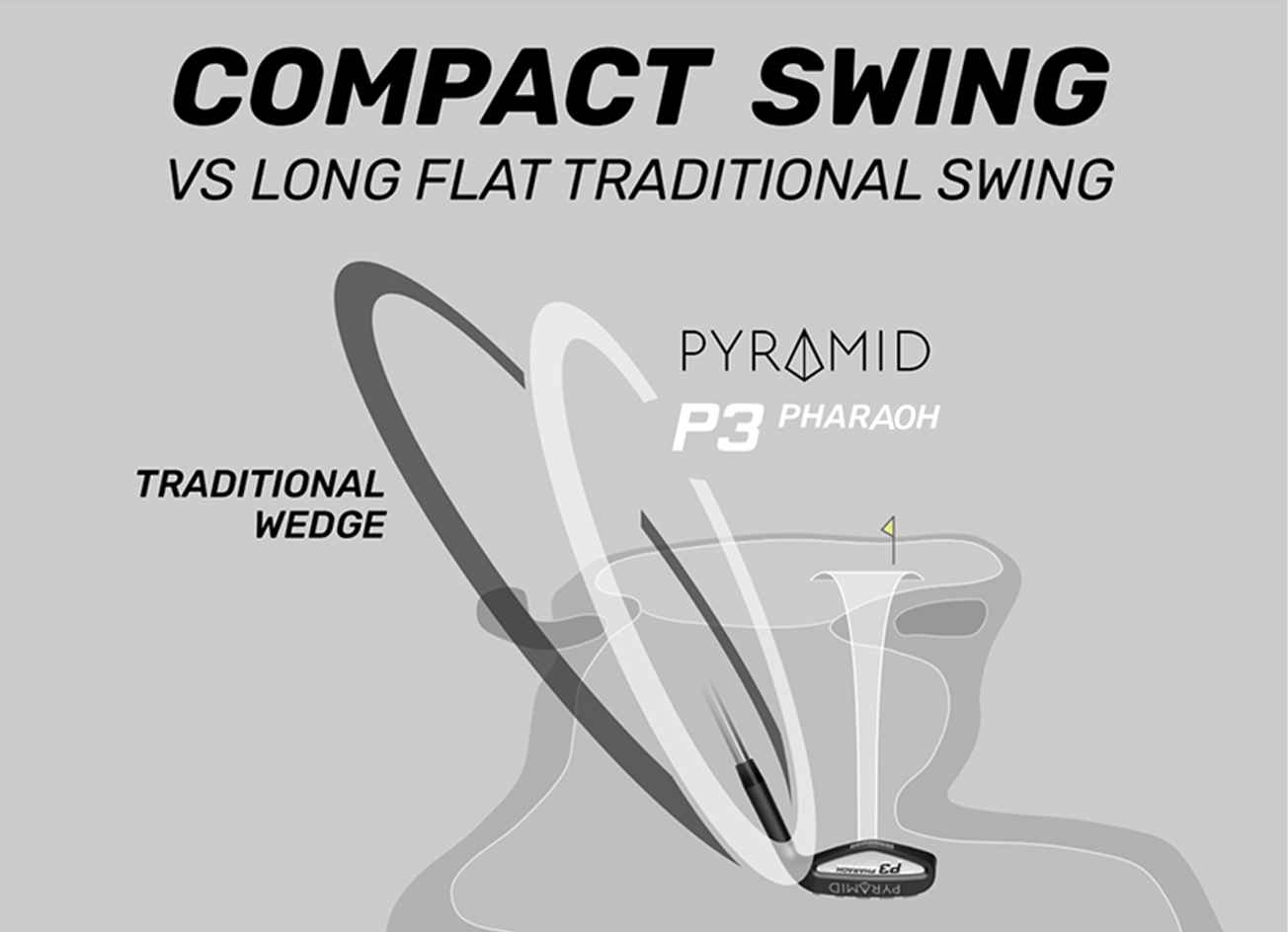 We did, however, set strict rules for performance .
No ifs, ands or buts.
This new wedge absolutely, positively had to be:
Extremely easy to hit  for golfers of any skill level…
Far more forgiving  than a traditional iron or wedge, and…
Versatile enough to handle most any shot within 70 yards of the green.
 I'm confident we achieved all that, not in spite of the Pharaoh's unusual design…
But because of it.
By going so far outside the norms of wedge construction, we crafted…
An all-purpose short game weapon that does the job of multiple clubs – like a 
Swiss Army Knife 

 for your short game.

Want to know what kind of shots you can play with the P3 Pharaoh Wedge?



1) 
Precision chipping from just off the green
Share
View full details